Omg yes. I wanna eat that amazing wet pussy. I bet you taste absolutely incredible sweetie.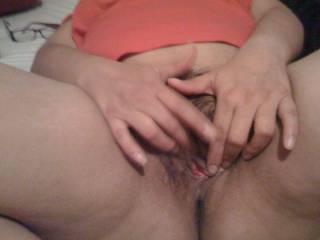 Mmmmmmmmy favorite one position! I'm gonna grab that hot ass with my hands and start to lick gentle and hard rubbing up/down through your ass gap your pussy and asshole, playing with clit, eat it all your sweet pussy, continue do tongue fuck and fingering your holes. Make your pussy very hungry to feed her deep fulfilled with my big very hard cock. 
I'm gonna drive you crazy and make you very wild.
You gonna groan, moan, roar, scream.
I'd (I'll) kneel and fixing your legs with mine or climb on your sweet hot ass, start teasing your ass and pussy rubbing up/down through your ass gap with dickhead of my big hard cock in my hand, then start to ride and drill you first tease your holes with my dickhead do rubbing circles then slide shallow dickhead only, then stinging you in/out (pull your hair back, nibble your shoulders and neck), then ramming and drilling deep fulfilled you deep inside. That will gonna be a wild ride. And I bet you would like something that's NOT flexible to help you deal with that horny condition you have.And it just so happens, I've got something right here in my hand that would fit your requirements. My God ! How delicious you look. I bet your pussy taste like Honey. Id love to eat you until you couldn't take it any longer than fuck you good and hard until I blow my load inside that juicy pussy. Would love to lick your horny wet pussy like this before I poke my swollen veiny cock balls deep into you and fuck you hard. Horny hot young and flexable all my favortie love to fuck you in many positions you hot lil fucktoy.