This pic just says I'm bloody wet and horny now get over here and eat me, lick me, suck me make my squirt then fuck me hard xxx.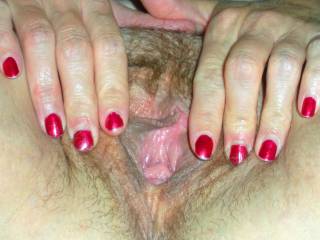 Kiss it, bite it, lick it, smack it. Push it, pull it, grip it. Hold it, rub it, spread it, fuck it. And lets not forget to massage it all over with a warm stiff cock.
Left, right , up and down both inner thighs, slapping against pussy lips over and over, ribbing your hard clit until your juices coat me and are running down your thighs. Mmmmm, I would so love to kiss inside your tight pussy, suck it, lick and tongue it deeply and taste your sex! WOW. You have a very desirable pussy baby! Love to slide my hard, pre cum dripping cock balls deep inside you and bring you to several orgasms before filling you with my hot, sticky, creamy sperm! I'd tease you by just popping my thick mushroom head in your tight pussy & pull back out to slap my thick shaft on your clit. When I was ready to cum I'd have you spread your pussy just like this. I wish I could proof it myself and slide my throbbing hard cock in, I wanna feel how tight you really are, then slowly begin do stretch. Mmmmmm, natural pussy just the way it was meant to be.Hairy, wet and spread! I'd love to spend a long night licking down there.